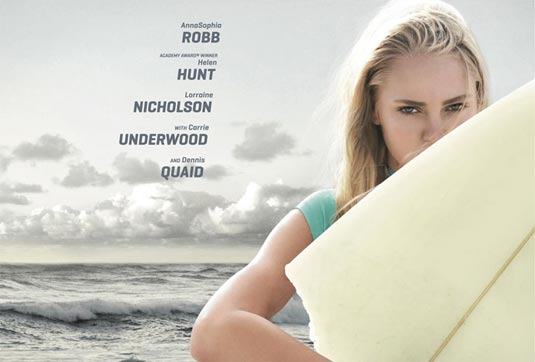 This is a movie about Bethany Hamilton, a Hawaiian surfer who loses an arm in a shark attack and still find it within herself to compete professionally. The number one reason I really liked this movie is that it is PG and it is totally clean. It is something the whole family can watch.
This movie promotes so many good and interesting things.
Family Unity
Working to Develop Your Talents (I don't need easy, I just need possible)
Being Grateful for Everything That You Have
Having the Proper Perspective on Life
(
Surfing isn't the most important thing in life. Love is. I've had the chance to embrace more people with one arm than I ever could with two.)
I've adopted this as part of my Life Mantra
I don't know why bad things happen to good people but I have to believe something good will come out of it.
This movie surprised me. There were a few parts I didn't care for and that I thought were unnecessary. I wouldn't take a younger person to see it but as a whole I really thought it was good. So the back story is

Cal (Steve Carell) and Emily (Julianne Moore) have the perfect life together living the American dream... until Emily asks for a divorce. Now Cal, Mr Husband, has to navigate the single scene with a little help from his professional bachelor friend Jacob Palmer (Ryan Gosling). Make that a lot of help...
There were parts that were funny, there were really sweet and touching parts, and there were pleasant surprises as well. This movie has a real genuine quality and lots of heart. You really feel for each of the individual characters even though you might not know everything about them. It definitely is not the predictable romantic comedy formula. Here are just a few of the reasons you should see it.
3) Shout out to Dirty Dancing

2) Wardrobe (Steve and Ryan look very sleek and suave in their suits and designer clothes)
1) Josh Groban makes his acting debut.