So this week I found out that Zac Efron has started filming a movie "The Lucky One." Imagine my dismay when I found out this movie has been adapted from a Nicholas Sparks novel, and I use the term loosely. Strike one and big mistake Zac. The second mistake is related to Zac Efron's character. He is playing a solider deployed to the middle east so he has sheared his head military style. Not happy am I. This is strike 240 billion for Nicholas Sparks. Just look at the result of the hair cut.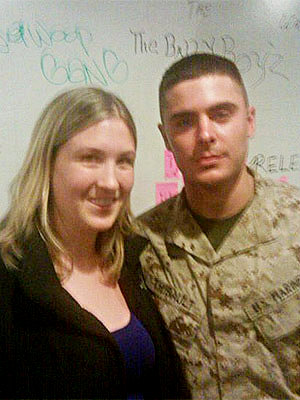 You can't tell me you don't prefer Zac's longer hair in a faux hawk. Stupid Nicholas Sparks. He is so formulaic , he takes himself too seriously and his books, in essence, are all the same story. Observe:
In a recent interview with USA Today, Nicholas Sparks criticized Shakespeare, Jane Austin, Ernest Hemingway, and romance novelists in general for essentially writing the same story over and over:

"(Romances) are all essentially the same story: You've got a woman, she's down on her luck, she meets the handsome stranger who falls desperately in love with her, but he's got these quirks, she must change him, and they have their conflicts, and then they end up happily ever after."

But he claims that he is not a romance novelist. He is a fiction writer who writes love stories.

"You read a romance because you know what to expect. You read a love story because you don't know what to expect."

Really Nicholas Sparks? Really?

Just to drive the point home and review, I don't know what delusional universe he is living in or what illegal narcotic he is smoking but, as a fellow hater pointed out, here are the facts.
1. Nicholas Sparks is an author who churns out about one romance novel a year.
2. All of these books are almost immediately made into movies.
3. All of these books are the same book.