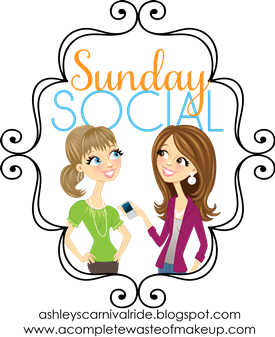 This week's Sunday Social is all about one of my favorite things-Food
The correct answer would be Cereal. I love all kinds and I could eat it for every meal.
Muddy Buddies
Sour Cream and Onion Pringles
Smartfood White Cheddar Popcorn
3.
What's the weirdest/craziest thing you've ever eaten?
I guess Oreos with peanut butter.
4.
What foods do you avoid at all costs?
Sea Food. Okay let me clarify. I cannot eat Shrimp. The one and only time I tried it I gagged and spit it right back out. We like to call them cockroaches of the ocean.
5.
What meal reminds you of your childhood?
Ham Fried Rice. When we were young and my dad cooked dinner, he would make exactly one of two things.
Spaghetti or Ham Fried Rice. His ham fried rice was actually really good. He'd use fried chicken instead of ham, celery and other vegetables, and scrambled egg.
6. Share one of your favorite recipes and the story behind it
.
Potato Casserole
(also known as Funeral Potatoes.
5 or 6 Potatoes, cooked with the skin on; cool them and then grate them
1 Can Cream of Chicken Soup
1 or 2 Cups Cornflakes mixed with 3 Tbsp butter and put on top of potato mixture.
Cook at 350 for 45 minutes
Potato Casserole is one of my favorite foods in the world. This is a food we have at almost every family get together. My Grandma will always be in charge of the potatoes for Thanksgiving. Whether it is my mom or my grandma, these potatoes are the best in the world. They never taste the same when somebody else makes them.